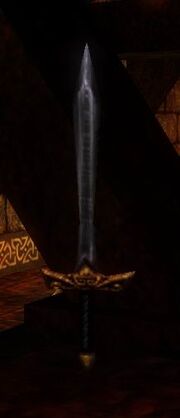 The Vorpal Sword allows the Paladin's close combat attacks to be enhanced by using mana but with the advantage of still being effective when the mana runs out.  When combined with the Tome of Power not only does the potential damage increase but it sends out a shockwave giving the Paladin a ranged weapon.

Statistics:
| | Normal | Tome of Power |
| --- | --- | --- |
| Damage | 30-50 (20-30 w/o mana) | 30-60 |
| Mana | 2 blue | 2-4 blue |
Ad blocker interference detected!
Wikia is a free-to-use site that makes money from advertising. We have a modified experience for viewers using ad blockers

Wikia is not accessible if you've made further modifications. Remove the custom ad blocker rule(s) and the page will load as expected.