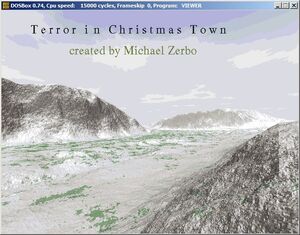 Terror in Christmas Town was developed by Michael Zerbo and released in 1995, it used the Pie in the Sky Engine. The demo version was available for free and if you wanted the full game you had to send $10 to Mr Zerbo.
The player had to find an elf captured by the Polar Bear King and had been frozen and locked up in his castle. The player has to battle bear to get to the castle. Doom it was not!
Ad blocker interference detected!
Wikia is a free-to-use site that makes money from advertising. We have a modified experience for viewers using ad blockers

Wikia is not accessible if you've made further modifications. Remove the custom ad blocker rule(s) and the page will load as expected.