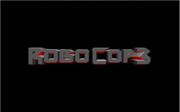 Released on the Amiga, ST and PC in 1993 it was based on an sideways  scrolling arcade game of the same name. The computer version had two options "adventure" which was essentially FPS with cut scenes and an  "arcade" mode where you drove cars, flew and moved along streets. The screen grab at the bottom is in "adventure" mode. I am just entering the OCP building (nobody on duty as usual!).
This computer game is often referred to as Robocop 3D but as you can from the screenshot of the PC version it wasn't sold under that name.
No walkthru found
Ad blocker interference detected!
Wikia is a free-to-use site that makes money from advertising. We have a modified experience for viewers using ad blockers

Wikia is not accessible if you've made further modifications. Remove the custom ad blocker rule(s) and the page will load as expected.