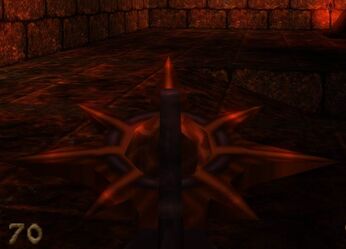 The Light Bringer emits beams of light which also bounce of objects and will do reflective damage. When powered up more damage is done and there are two other beams emitted.
Statisitcs:
Normal

Tome of Power

Damage

140 persec on target(s)

70 persec reflection

340 persec middle beam

140 persec side bolts

Mana

lots

lots

The Light Bringer is made up of three parts: the Ice Mace  or Meteor Staff plus two further pieces found in the game. Illustrated below:
Ad blocker interference detected!
Wikia is a free-to-use site that makes money from advertising. We have a modified experience for viewers using ad blockers

Wikia is not accessible if you've made further modifications. Remove the custom ad blocker rule(s) and the page will load as expected.