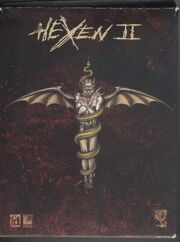 Hexen II is the sequel to Hexen developed by Raven Software using the Quake engine in 1997.
The Enemy is Eidolon and his four generals who each rule in a different part of the world of Thyrion:
Each of the generals are guarded in their lands by countless minions.
Game Play
Edit
Hexen II is similar in concept to its predessesor:
Game Structure
Edit
The game consists of three opening levels and five hubs:
The Portal of Praevus was an expansion pack that added 2 more Hubs with 30 new levels, two new monsters and a new character, the Demoness .
And Finally
Edit
Screenshots from the gorgeous JSHexen II Port
Ad blocker interference detected!
Wikia is a free-to-use site that makes money from advertising. We have a modified experience for viewers using ad blockers

Wikia is not accessible if you've made further modifications. Remove the custom ad blocker rule(s) and the page will load as expected.