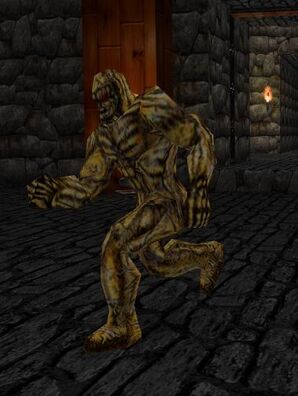 The Golem is made of hardened clay and will advance slowly but surely on it's target. They come in two varieties Golem and Nitrogolem. The first is not too much of problem as they have no ranged attack, but the Nitrogolem can also hurl screaming skulls which do a lot of damage on impact. They can both be killed by efficient use of the Eleven Wand and a certain amount of dodging.
Golem

Health

80

Damage

Punch: 2-16
Nitrogolem

Health

100

Damage

Punch: 2-16

Missiles: 4-32
Ad blocker interference detected!
Wikia is a free-to-use site that makes money from advertising. We have a modified experience for viewers using ad blockers

Wikia is not accessible if you've made further modifications. Remove the custom ad blocker rule(s) and the page will load as expected.