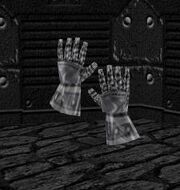 The
Gauntlets of the Necromancer
is melee weapon available to the player early on in the
game
. The Gauntlets discharge an electrical attack which delivers fast repetitive damage to enemies. Unlike the
Staff
, the Gauntlets aren't just a weapon for when all others fail but can in fact be used practically to take down a variety of enemies in any given situation.
Normal

Damage

4-32

Powered Up

Damage

4-32

Extended Range
Ad blocker interference detected!
Wikia is a free-to-use site that makes money from advertising. We have a modified experience for viewers using ad blockers

Wikia is not accessible if you've made further modifications. Remove the custom ad blocker rule(s) and the page will load as expected.